More than 2.5 million ballots were left uncounted on election day across California, a process that could take several days or longer and leave close races in limbo.
Secretary of State Alex Padilla posted a report late Thursday on unprocessed ballots. Most of that total — about 1.8 million — were mailed to voters but returned only on Tuesday.
Six million ballots have already been counted from the statewide primary. The uncounted tally would push total voter turnout to about 8.5 million, or around 47% of all registered voters.
Los Angeles County had more unprocessed ballots than anywhere, about 616,000. San Diego County reported 285,000 uncounted ballots.
A portion of the unprocessed total are provisional ballots — designated for voters whose registration status can't be immediately verified on election day. If a provisional ballot is later found to have been cast mistakenly, it may not be counted.
---
As the week ends, 2.4 million uncounted ballots from California's primary
For the politically curious, it's the best guessing game around: What's in the uncounted ballots from election day, and how many of them will change closely watched races across the state?
On Friday afternoon, Secretary of State Alex Padilla reported that there were 2,423,607 uncounted ballots statewide. About two-thirds of those are vote-by-mail ballots, with three Southern California counties leading the way: Los Angeles, San Diego and Orange.
Reports from a number of the state's 58 counties haven't changed for a few days, so expect the figures to shift pretty noticeably by early next week.
And one other part of the process: This is the first year in which ballots that arrive up to three days late — Friday would be the deadline — can be counted. So the number of ballots on hand could also change.
---
For voters who spent decades – even lifetimes – trying to understand the rules for elections in California, the last four years of a new system have been a jarring jumble of candidates and choices.
The seismic shock responsible: an overhaul of the rules for congressional and legislative primaries. That change, promised as a way to reform state politics, tore down election rules that had been built by political parties to give a leg up to their preferred candidates.
What's left is a system that's far from settled, for either voters or candidates.
"It has no doubt upped the uncertainty factor," said Dave Gilliard, a Republican political consultant who managed several legislative races across California on Tuesday's ballot.
As many as two dozen races for the Legislature or Congress will pit same-party candidates against each other on Nov. 8, according to early returns from Tuesday. In most of those contests, it was outside money and the number of candidates on the primary ballot — not political strategy — that shaped the outcome.
---
Lawmaker wants to open presidential primary ballots to all voters
With voters registered as no party preference locked out of voting in this week's closed Republican presidential primary, one lawmaker proposed Thursday to open future votes to everyone.
Assemblyman Adam Gray (D-Merced) and the Independent Voter Project announced the proposed amendment to the state Constitution that would create a single presidential ballot from which all Californians could pick and choose candidates from any party.
However, the proposal would leave it up to the political parties to decide whether to count votes from no-party-preference voters or those of other parties.
"When voters fill out their ballot they expect to be able to vote for their candidate of choice, regardless of political party," Gray said in a statement. "While voters have that right in every other state and federal election, their choices are artificially limited when voting for president of the United States."
In addition to being locked out of the Republican presidential primary, no-party-preference voters also had to ask poll workers for ballots containing Democratic presidential candidates and those of other parties. Gray said that is unfair given that elections are paid for by taxpayers.
"If political parties want to write the rules, then they should pay for the primary elections themselves instead of asking taxpayers to foot the bill," Gray said.
Republican Party officials were not immediately available to comment on the proposal, which would have to be approved by the state's voters.
---
2,300 votes separate GOP rivals in Central Coast congressional district — with 27,000 to count
All eyes are on the No. 2 spot.
Santa Barbara County Supervisor Salud Carbajal won the primary with a commanding lead of 33% of the vote in a crowded field of nine candidates to replace retiring Rep. Lois Capps in the 24th Congressional District.
Just 2,357 votes separate Republicans Justin Fareed, a 28-year-old former Capitol Hill staffer who works for his family's sports medical devices company, and state Assemblyman K.H. "Katcho" Achadjian of San Luis Obispo. Fareed is ahead.
There are 27,866 ballots still waiting to be processed in San Luis Obispo County alone, according to officials there. Santa Barbara County is still counting unprocessed ballots and should have an update by Friday morning.
"It's still a tight race," said Nyri Achadjian, the assemblyman's daughter and campaign manager. "There are several thousand votes to be counted and we're looking forward to seeing them come through."
Fareed's campaign did not respond to a request for comment.
---
Labor icon Dolores Huerta's son locked in tight race for general election spot in the Central Valley
Election day is over, but the wait has just begun for Daniel Parra and Emilio Huerta, two Democrats running for Congress who are currently separated by just 467 votes.
They each hope to advance to the general election and take on Rep. David Valadao (R-Hanford), who already clinched his November spot, in a district Democrats have been struggling to crack for two election cycles.
Democrats have a 16-percentage-point advantage over Republicans in the Central Valley's 21st Congressional District, but Valadao has steamrolled his last two opponents.
Huerta, an attorney and the son of labor icon Dolores Huerta, was supported by many in the state's Democratic establishment and boasted a 2-1 fundraising advantage over Parra, a Fowler city councilman.
At the party's convention in February, he even managed to successfully block Parra from getting the party's endorsement through some dramatic maneuvers off the floor.
But it is Huerta who is lagging behind Parra with thousands of ballots in the district yet to be counted. It is unclear who will come out ahead.
"I'm a first-time candidate so everything is a surprise to me," Huerta told The Times on Wednesday. "We were hoping, of course, to have better numbers."
Parra said he was happy with his showing so far, especially considering what he was up against. One of the speakers who advocated for blocking Parra from getting the party endorsement was Rep. Zoe Lofgren, chair of California's Democratic congressional delegation.
"The guy had money and he had the DCCC over working for him," Parra told The Times. "So I'm feeling pretty damn good to have done what I've done. I've had the machine come at me and I'm still here."
Kern County expected to have an estimate of total uncounted ballots by Thursday afternoon. About 40,000 mail-in ballots and 15,000 provisional ballots still need to be tallied in Fresno County, where about a third of the district falls.
---
L.A. County estimates there are more than 500,000 ballots left to count
LA County Registrar says 1.4 million ballots have been counted so far, and estimates more than 570,000 more will be counted in coming days.
Los Angeles County Registrar-Recorder and County Clerk Dean Logan estimates that the county has more than 500,000 ballots left to tally from Tuesday's primary election. More than 1.4 million ballots have been tallied in the county so far, he said in a news release.
The estimate of uncounted ballots includes 240,063 provisional ballots, 125,280 vote-by-mail ballots dropped off at polling sites and 204,946 ballots that were postmarked by election day.
The rise of voting by mail among Californians means it can often take weeks to get final election results, especially in close races such as the handful of congressional and legislative races that are still too close to call.
County election officials have until July 5 to submit their final results for presidential delegates to the office of California Secretary of State Alex Padilla, and until July 8 to submit results for all other offices. Padilla then has until July 15 to certify the state's primary election results.
---
Super PAC focused on GOP voters to back U.S. Senate candidate Loretta Sanchez
A Republican political consultant on Wednesday said he is working with a super PAC to support Orange County Congresswoman Loretta Sanchez's campaign against state Atty. Gen. Kamala Harris in November.
The Democrats were the two Senate candidates who finished in the top two in Tuesday's primary election and will face off in the general election.
Sacramento consultant Dave Gilliard said the pro-Sanchez campaign by the Jobs Opportunity and Freedom PAC will be focused on Republican voters because no GOP candidate will be on the November ballot.
"Representative Sanchez's experience on national issues, especially those related to national security, veterans and public safety, make her the easy choice in November," Gilliard said in a statement.
---
Kamala Harris says she's the U.S. Senate candidate who can unify Californians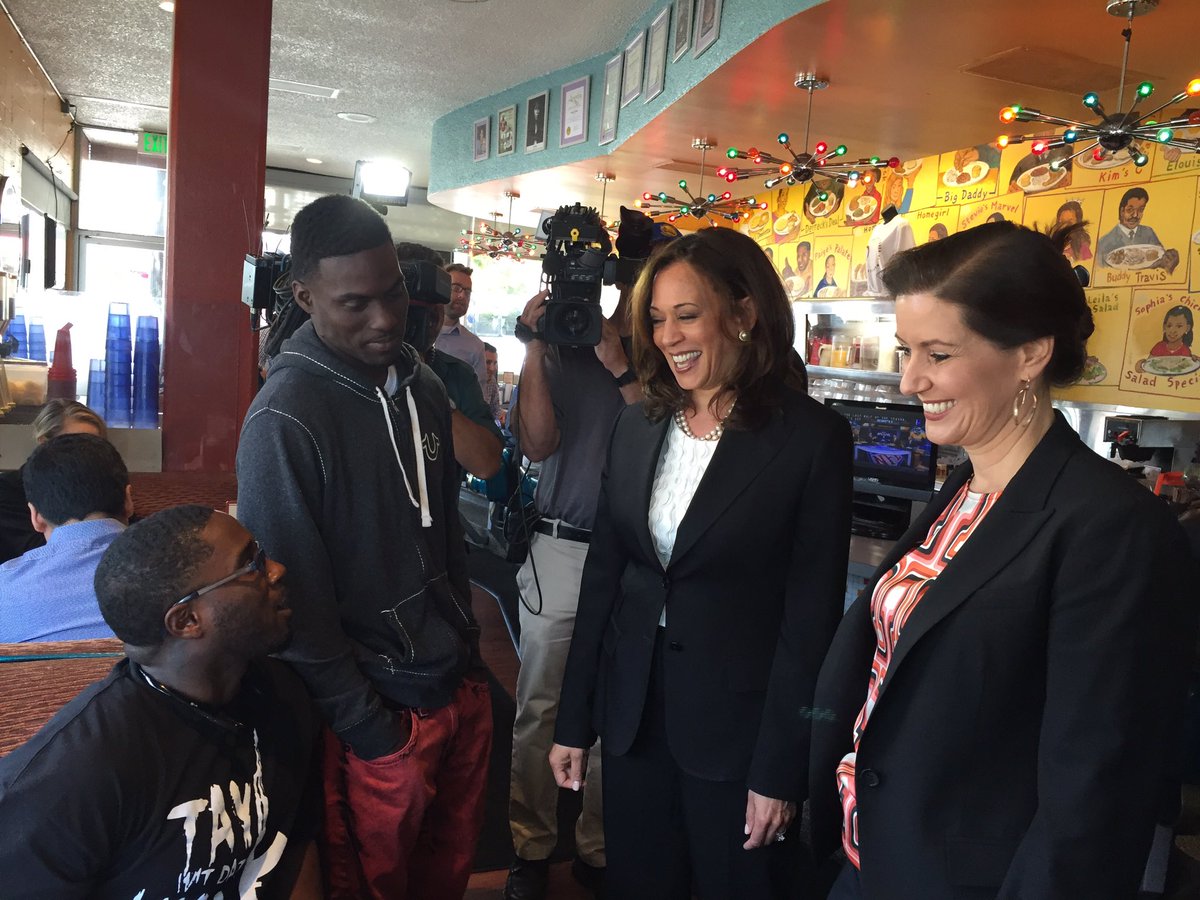 A day after dominating the U.S. Senate primary election, state Atty. Gen. Kamala Harris hobnobbed with diners at Oakland's Home of Chicken and Waffles and then told reporters that Tuesday's results showed she was the candidate who can unify all of California.
According to preliminary results, Harris finished with 40.4% of the vote Tuesday, compared with 18.6% for her Democratic rival, Rep. Loretta Sanchez of Orange. Harris bested Sanchez in all but four counties, and the two were neck-and-neck in the congresswoman's home county.
The two Democrats will face off in the November general election. Harris dismissed speculation that Sanchez may appeal to moderates and Republicans in hopes of building a patchwork of support that could lead to victory in the general election.
"California spoke last night in terms of the primary," Harris said.  "People of every demographic, every geographic location in our state, all came together. It was not North versus South; it was not the coast versus inland. All Californians spoke. And we unified them .… That that's how were going to go into November."
Harris promised to debate Sanchez, but declined to say how many times, and sidestepped questions about the differences between them.
"I like getting things done. That's the work I did as attorney general of California," Harris said. "And that's the work on want to do going forward.
---
As was expected, California voters in several races will be choosing between some familiar names in the general election.
Here are the competitive races in which incumbents will square off against the same opponent they faced in 2014:
Assembly District 36: Assemblyman Tom Lackey (R-Palmdale) will again face Steve Fox, a Democrat who won this seat in 2012 and whom Lackey ousted in 2014. This will be the third cycle in which these two rivals meet: In 2012, Fox edged out Lackey in the primary before winning against another Republican in November. Democrats have a voter registration edge in this seat and could make it one of their pickup priorities for the fall.
Assembly District 39: Assemblywoman Patty Lopez (D-San Fernando) may be an incumbent, but she hasn't shed much of her outsider status since her surprise win in 2014. Primary results show her nearly 20 points behind former Assemblyman and fellow Democrat Raul Bocanegra, whom Lopez has defeated by less than 700 votes.
Assembly District 53: In the 2014 primary, Assemblyman Miguel Santiago ran against three other Democrats for this open seat and still walked away with 56% of the vote. This time, he faced only two others and got just 47%. He's now in a rematch against activist Sandra Mendoza, who lost to him by wide margins in the last general election.
Assembly District 65: In Tuesday's primary, Democratic challenger Sharon Quirk-Silva, who won this seat in 2012 only to lose it in 2014, pulled ahead of Assemblywoman Young Kim (R-Fullerton) in this true swing district. With 100% of precincts reporting, Quirk-Silva was up by more than 3,000 votes.

Assembly District 66: Al Muratsuchi is another Democratic challenger who's ahead of a Republican incumbent after Tuesday's results. He and Republican Assemblyman David Hadley (R-Manhattan Beach) will face off in November in one of the more hotly contested races with an eye toward the Democrats' supermajority.
Congressional District 10: Rep. Jeff Denham (R-Turlock) will again face Democrat Michael Eggman, who lost to Denham in 2014. With voter registration virtually tied, the Democratic Congressional Campaign Committee has placed this on its "Red-to-Blue" priority list.

Congressional District 17: Repeat challenger Ro Khanna appears to be ahead of Rep. Mike Honda (D-San Jose), a stark contrast from the 2014 primary, when Khanna trailed Honda by 20 points. Khanna has been building up momentum toward what is sure to be a lively rematch of the last election.
Congressional District 31: Rep. Pete Aguilar (D-Redlands) will again face Iraq war veteran Paul Chabot, who ran against Aguilar for this open seat in 2014. Aguilar beat Chabot by three percentage points in the 2014 general election, and while Democrats maintain a slight edge in voter registration here, it could be a competitive race for the first-term congressman this fall.
source:http://www.latimes.com/politics/la-pol-ca-california-primary-there-are-more-than-2-5-million-1465520381-htmlstory.html